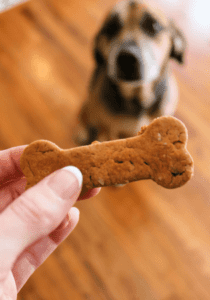 The following are Recipes that have been provided by some very caring Pet Folks – though we have not tried them at Risen Star we thought you might want to try them and provide us with your feedback and we will get that feedback out to everyone.
Sweet Potato Dog Treat
Start with two Sweet Potatoes (Go Organic if you can)
Wash and Dry the Sweet Potatoes
Thinly slice potatoes length wise (1/2″ in length about a 1/4″ thick)
Preheat oven to 250 degrees
Place strips on a baking sheet and Bake for 3 hours.
Turn them over halfway through the baking process
Store in sealed container in fridge or freezer
Now we have been told that this will actually help prevent fleas – not sure but perhaps they are just tasty to your Canine Family Member
Brewer's Yeast Biscuit (All Natural – Grain Free)
Now they say that the Benefits of Brewer's Yeast include B Vitamins; Zinc; Protein; Amino Acids; reportedly helps to have a shinier coat and strengthen the immune system.
And they say that the Coconut Oil may help with Yeast Infection; hot spots; cracked paws; might help bacterial viral infections; may reduce cancer risk; may improve digestion; help with coat; and may also help with prevent parasite infestation.
Brewer's Yeast – 1/2 tsp per 10 lbs of body weight
1 1/8 cups of organic coconut oil (melted)
1/2 cut of Brewer's Yeast
Place all of these contents into a blender or food processor – blend until smooth and grainy.
Place in a silicon baking sheet / mold
Freeze
When frozen, remove from mold and put in freezer bag.
Will actually keep in the freezer up to six months.
(Please note, it MUST be Brewer's Yeast in this recipe, if you use regular yeast it could end up hurting your dog)
Pumpkin Biscuits

2 cups of flower
1 egg
1/3 cup of peanut butter
1/2 cup of Pumpkin (try to make Organic)
Roll out to 1/2″ thick
Cut out biscuits
Bake 40 minutes at 350 degrees