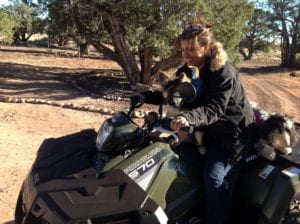 Risen Star Kennel now just known as "Risen Star" has new owners. The largest boarding facility in the Tri-State Area (California- Arizona-Nevada) has changed hands and a major change is occurring as the objective to provide "Quality Support Services" to your four legged family members in Grooming, Boarding and Training comes to life. The focus is to become THE high quality one stop location for your valued furry family member.
One of the reasons David and Maria Torres decided to acquire Risen Star from it's original owner, Lori McCartney, was to be able to give something back to the four legged protectors. From the military to law enforcement to personal protection, their family has a very specific perspective on dogs and wanted to give something back as well as calm their lives down a bit as dogs will do that.
New beds have been ordered, setting up for various levels of facility upgrades and focusing on grooming and training in the one acre facility located at the Bullhead-Laughlin Airport.

Risen Star Services
Grooming: Bath, fluff dry, external anal gland expression, nail clipping,ear cleaning and plucking, full hair cut to owner's specifications. Maintenance trims of the face, feet and sanitary areas only.
Boarding: We fully understand that when your four legged family member is not with you and not at home, that is stressful for them and any temporary lodging has to step up and provide a high level of interaction and care so that they know that they are cared for and that someone is there for them if they need anything. Simply providing Food, water is not enough when you are not there, we will be.
Training: Dogs are special to us, they make our lives better we know they do. That being said, dogs speak their own language, have their own view of the world and our training program will introduce you to that world perception and that language so you can have that great relationship with your furry companion. Group and Individual training at our facility is available, we can help solve those furry relationship problems.
In addition:
New Interactive Website (Under Construction)
Information Support Blog
Q & A Support for those Pet Problems
Board and Train Dog Program
Day Care and Boarding
____________________________________________________
We will continually focus on learning and improving our services and our facility and we are very much open to suggestions and ideas. If you have any questions or issues with our services you can reach out to Maria or David at the facility or may contact us after hours or more directly at (909) 406 5071.